Thank you Xinhua News. Please click here to access the article from Xinhua News.
China to deepen ties with Latin-America
2012-01-17 17:26     chinadaily.com.cn
---
Yang Wanming, director-general of the the Department of Latin American and Caribbean Affairs of the Chinese Foreign Ministry, exchanged views with chinanews.com readers online on Tuesday afternoon.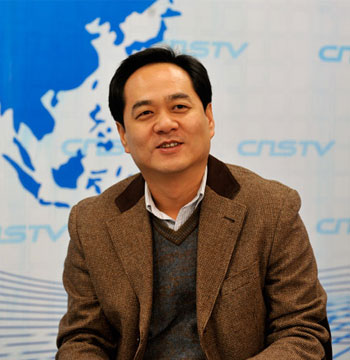 Yang Wanming, director-generalof the Department of Latin American and Caribbean Affairs of the Chinese Foreign Ministry, answers questions from chinanews.com readers online on Jan 17, 2012. [Photo/Chinanews.com]
Topic: China-Latin America cooperation in culture
Q: How do China and Latin America cooperate in the field of culture?
A: China has opened 32 Confucius institutes in Latin America, covering almost all Latin American countries. Both sides also send art troupes to visit one another and conduct people-to-people exchanges. Many Chinese people like their football, music and dances and engage in studying Spanish and Portuguese. Many Chinese books have also been translated into Spanish and sold in Latin America.
Topic: Cooperation in energy
Q: What's the current situation with Sino-Latin American energy cooperation? Some people think China is plundering energy resources there and uses it as a way to curb the US.
A: China is trying to carry out comprehensive cooperation with Latin American countries and its efforts have been well welcomed by them. The cooperation not only benefits the two parties, but also contributes to global peace, stability and prosperity. It started late and is on a relatively small scale, but has been developing fast. China imported 20.73 million tons of crude oil from Latin American countries in 2010, which accounts for 8.7 percent of China's total import in that year. Venezuela has become China's 4th largest oil provider. The two parties will explore cooperation on new energy. It's totally based on equality and mutual benefit and will do no harm to the third party.
Topic: US view on China-Latin America relationship
Q: The relationship between China and Latin American countries has developed so fast. What do you think of the feeling in the US to this?
A: In recent years, the independence of Latin American countries is growing and its economic growth momentum becomes more diverse than before.
The rapid development of China-Latin America relations is on the basis of mutual benefit and win-win for both sides and is within the needs of Latin American countries' diversified diplomacy and development strategy.
It will not only benefit development of both, but also contribute to the world's stability and development.
China and the US have already established a consultation mechanism on Latin-America, and through four different consultations, the two parties have enhanced their mutual trust on this issue.
And the US has repeatedly stressed in their consultations that strengthening relations between China and Latin American countries will be good for Latin-America's stability and development.
Topic: Chinese workers kidnapped in Colombia
Q: It was reported that several Chinese employees were kidnapped in Colombia by unidentified armed militants. How are they now? Could you release some information about the rescue efforts?
A: Four Chinese workers were kidnapped by some unknown armed militants in Caquetá province in Colombia on June 8, 2011. We have urged the Colombia authority to spare no effort to carry on the rescue work under the premise of guaranteeing the safety of hostages. Since then, the Chinese embassy in Colombia has kept in close cooperation and contact with Colombia's relevant departments. The rescue work has not finished yet, but the safety of the four hostages can be guaranteed. Chinese companies are facing more risks as they go global on a larger scale. We need to increase our political backup and diplomatic guarantee to them, strengthen the consular protection and safeguard their legitimate interests. Meanwhile we advise Chinese people in Latin America to improve their sense of safety and precaution.
Q: How about China-Mexico relations?
A: China and Mexico are both developing countries and are working at enhancing people's living standards. They hold the same positions on many international issues and regularly cooperate on these..
China and Mexico have some trade friction over trade imbalance problems, but we hope both sides can deal with the problems reasonably and from a development point of view.
We hope both can take active measures to promote the diverse, comprehensive and healthy development of the two countries' economic and trade relations.
February 14 marks the 40th anniversary of diplomatic relations between China and Mexico. We believe the relations can become more comprehensive, steadier and healthier with the two countries' joint efforts in the future.
Q: Can you talk about the relationship between China and Brazil?
A: Brazil is one of the biggest countries in Latin America and one of the emerging powers in the region. The China-Brazil relationship is one of the most important between China and Latin America.
In recent years, the strategic partnership between China and Brazil has made considerable progress. They maintain a good momentum of high-level exchanges and the political mutual trust is deepened.
Their economical cooperation is also deepening constantly, which has brought tangible benefits to people of both countries. Bilateral trade volume exceeded $80 billion in 2011. Investment cooperation in finance, energy, steel, and machine manufacturing has also made great progress, and is expanding constantly.
China and Brazil have active exchanges in science, technology and culture as well.
The cooperation in the fields of Earth resource satellites, agricultural technology and aviation is progressing continuously. And the cooperation in culture and education is also very close.
China's Confucius Institute Headquarters opened two Confucius Institutes and a Confucius school in Brazil and Brazil's important media institutions have sent many journalists to work in China.
China and Brazil are both developing countries and have broad and consistent interests on major international issues. The Chinese government attaches great importance to relations with Brazil and believes the two countries' cooperation in various fields will make great progress with their joint efforts.